Creating beautiful spaces
– with family-centered service –
since 2001.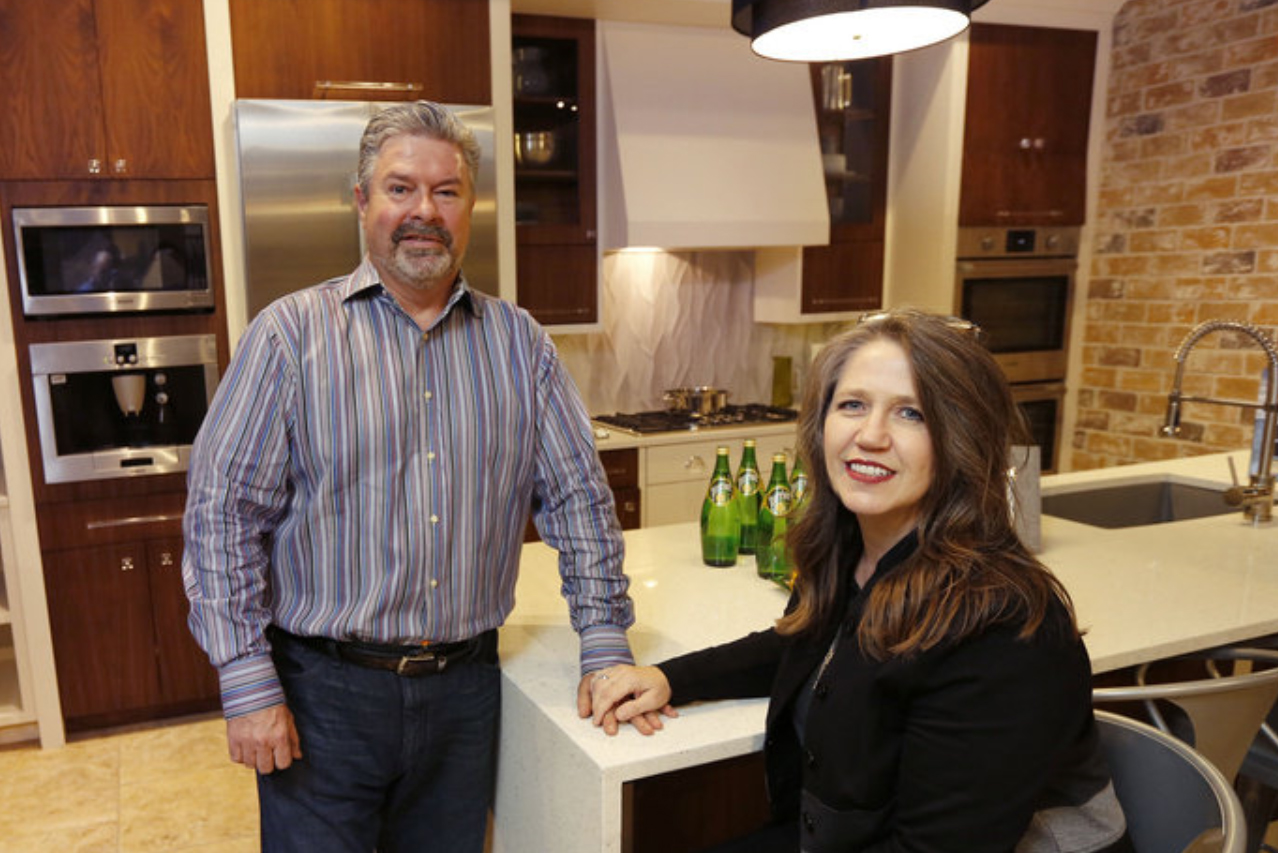 Edmond Kitchen & Bath LLC is an award-winning Design+Build firm whose specialty in kitchens is well renowned and unparalleled. Our family owned business includes design and construction professionals who are passionate about creating, building and installing dream-come-true interiors for clients who value our commitment to quality, integrity and personal service from start to finish.
Our experience in successfully navigating the complexities that accompany a project is appreciated by the scores of homeowners including engineers and other professionals for whom we have performed. We fully immerse ourselves in a project from beginning to end – bringing a design from the drawing board to reality and from demolition to the room's first use. We are experts at juggling and finessing the thousands of details a job demands and at maintaining that exquisite balance between aesthetics and functionality – providing confidence and comfort while we are in our clients' homes.
"Their attention to detail is refreshing and reassuring.  From vision to design and final product, EKB provides a seamless execution, making an often stressful event a pleasure, and follow up after the fact is superb.
"Edmond Kitchen designed and remodeled our kitchen and we could not be happier with the results. The design team took into account our vision and created an extraordinary model that was beyond our imagination.  Our project was completed a week early and the only hit to our budget was caused by our own indecisiveness.  We absolutely recommend."
"I have only the highest praise for the team. Brenda and Megan were exceeding helpful to help me tailor my vision in ways to make it better and to help with details I would not have known. The crew that worked in my home was always respectful and did an excellent job with exceptional quality. In a world that often promises more than they can deliver, Edmond Kitchen and Bath is a wonderful exception. Highly recommend."
"We thoroughly enjoyed working with everyone on the team at Edmond Kitchen and Bath… It was obvious to us that they took great pride in their work and it showed in the finished products. One of the things I liked most was that we were able to see great drawings of what the finished rooms would look like and had probably 99% of the decisions made before demo ever began. That reduced a great deal of the stress and virtually eliminated delays along the way."
"We could not be happier with our remodeling experience working with Brenda, Megan, & Robert….always several steps ahead of whatever inquiries we might make.  We love our new kitchen!!!"
"Edmond Kitchen & Bath helped create the kitchen we had envisioned! Their extremely talented design team listened to our ideas….and masterfully brought it all together down to the last detail.  They were realistic and accurate for their timeline for completion of the project. We highly recommend them!"
"….The designers understood what my dream was – a very functional kitchen.  Not only did they hit the nail on the head, but they delivered their level of aesthetic expertise that far exceeded my expectations."

"Our home is over 100 years old and they respected the look and the care we needed for the kitchen.  It has been 2+ years since our redo and everything in the kitchen looks as good as the day they finished the project. Kudos for a great job to Brenda and Robert and staff. "
"Before remodeling our 40 year-old kitchen, I interviewed several companies that specialized in kitchen and bath remodeling. The moment I met the folks from EKB, I knew that they were the right company for our project. They listened to our ideas and embraced our vision immediately. They executed the project beautifully, professionally, punctually, and joyfully."
"Contracted with Edmond Kitchen and Bath to remodel our kitchen, laundry room and living room. We are thrilled with the job they did. Very high quality with attention to every detail. Robert and Brenda are fabulous to work with. Highly recommend Edmond Kitchen and Bath!!"
"Brenda knew exactly how to make each detail work.  These were details that the architect and builder hadn't even thought of–such as lighting placement, specialty drawers, a custom storage/dog bed, etc.  She also had access to quality products that we hadn't found in other places. We couldn't be more pleased and would definitely recommend Brenda and her group to anyone."
Why Edmond Kitchen & Bath LLC?
Our Professional, Licensed and Registered lead designers, Brenda & Megan, will guide you through the design process to help you determine where to splurge and where to conserve to obtain your desires. Working along side our Project Manager, every aspect of your project will be controlled to insure that the finished space represents what's important to you. They will blend the right mix of form and function that delivers show-stopping results that perform as well as they look for years to come.
We believe that technology creates better results. Utilizing 3 state of the art CAD systems allows us to develop full color 3-D renders of your new space, thereby eliminating uncertainties and verifying designs. Precision results in both the estimating process and fieldwork is ensured. Even if you don't think like an engineer or an accountant, you'll be glad that we do. You'll also be glad to know that EVERY picture you see on our website is actual work designed and built by us. We will only show you rooms that we created – no inspiration or stock photos.
Presenting two showrooms in the metro, we have made the investment to lay our work open for you to touch, see, use, and feel. Whether you visit our Edmond or OKC location, you can see firsthand the genius of our design and the quality of our products, featuring our made in Oklahoma custom cabinet line with premium furniture grade finishes and endless detail options.  Once you feel the difference between these luxury finishes and the in-home sprayed builders lacquer – you'll understand.
What can we say…we're picky.  Through our years of experience and attending Kitchen, Bath, & Builders trade shows, we have always had a taste for the finer materials that make a up a home.  From high-end, luxury cabinetry to the best in plumbing, tile, lighting, or labor, we will only associate our name to products and tradespeople that we believe to be the best.  Even on our more budget friendly semi-custom cabinet line, we still selected the best vendor in this category.  We take no short cuts and expect all our partners to follow this same practice.