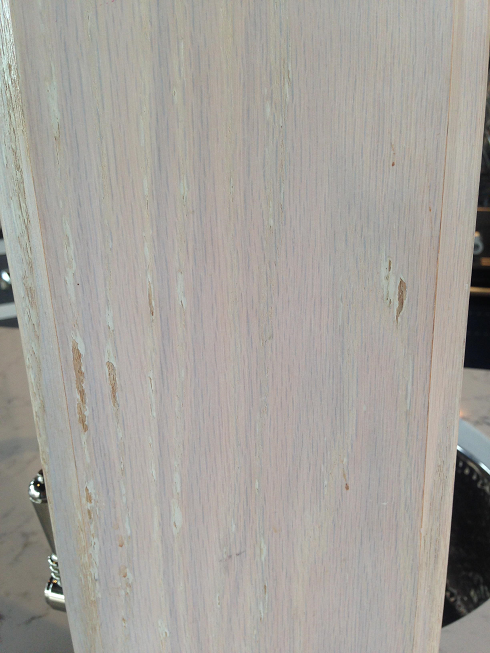 Does the finish on your cabinets look like these?  Welcome to the new construction finish of choice – Nitrocellulose Lacquer.
In central Oklahoma and many other parts of the country, the builders preferred finish for new construction and remodeling is Nitrocellulose Lacquer.  This product – used in almost every new home built in the area, allows water spots to pass right through and soak into the wood.  Over time, with repeated droplets of water as you use your kitchen or bathroom, the finish starts to look like these examples.  The Nitrocellulose is flaking off.  I've seen it in homes less than two years old.
If your cabinets were finished in place, there is a high chance this is what you have.  New construction, remodeling… they all use it.  Most finishers don't even know what it looks like 5 years later because they don't go back.  But we do.
According to most websites that discuss the properties of lacquer, Nitrocellulose lacquers are not recommended for use on cabinetry or furniture where water resistance is required – yet it is used in almost EVERY new home built in the OKC area! Let's explore some of the properties of 4 options for wood finishing.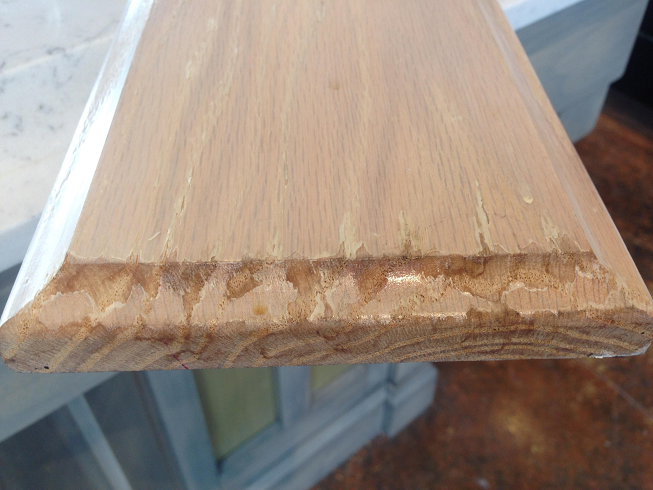 Comparison of the 4 main finishes for cabinetry
| Product | Water Resistance | Durability | Yellowing | Used by |
| --- | --- | --- | --- | --- |
| Nitrocellulose Lacquer | Water damage can appear within two years.  Household chemicals can cause damage. | Scratches and turns white when hit or nicked. | Turns yellow within a few months. | Most new construction painters. |
| Cab-Lacquer or Cab Acrylic | Water vapor will not pass through | Very durable with slight yellowing | Very slight yellowing can occur | Better product – better painters |
| Catalyzed Lacquers | Water droplets will not pass through | Very tough. | No yellowing | Furniture builders – high caliber painters |
| Conversion Varnish | Neither water vapor nor droplets can pass through.  Will stand up to Acetone – fingernail polish. | Toughest finish – yet still beautiful. | No yellowing.  Stays crystal clear. | The best furniture and cabinet makers available.  This is on all our cabinets. |
Our cabinets are sanded between every coat, plus 4 times before we apply the first layer!
Builder-grade stains or paints only get 2 or 3 passes with sandpaper.
The last product in the table – Conversion Varnish – is simply the best product for highest-quality cabinet finishing.  All of our cabinets are finished with this product.  One reason most builders do not use Conversion Varnish is the amount of sanding needed to achieve this beautiful finish.  Every piece of wood is sanded four times before we even begin to apply the finish, then every piece is sanded, by hand, between every coat.  This produces a true furniture style finish that is as strong as it is beautiful.
Contractor grade Nitrocellulose, used by most builders, melts each previous layer as it is applied.  This means the painters only have to sand two or three times to achieve their finish.  This melting capability is also why nitrocellulose is not recommended around moisture – such as bath or kitchen cabinets!  Let alone baseboards if you ever have to wet mop your floors….  And it's not that the builders painters are trying to short-change you, it is simply that they don't know what this product does!  Most new construction painters are only in the house during construction – not two years later when the problems are evident.  As a remodeler, we are in houses that are on average over 5 years old – so we see the problems of nitro cellulose daily.
Another example of how builders finish cabinetry.  Painted or stained drawer glides and hinges are the standard.  As they are spraying the cabinets, they do not want to take the doors off, so they spray right over the hinges.  Nor do they want to spend the time to mask of the drawer glides, so they too are painted or stained.  As the nitrocellulose is a brittle product, these will become flaky and chipped fairly fast.
If you are building or remodeling and you will be working with unfinished wood, I would encourage you to talk with your paint store about these products.  Every paint brand, even Sherwin Williams, sells the good and the not-so-good.  Do it right the first time and your finish should last 20 years or more.  Use the wrong product and you get to do it all over again in 5 to 10.  And it always costs more to refinish cabinets than it does to apply that very first finish.  Choose wisely.  During our first ten years in business, we refinished over 100 kitchens, primarily due to nitrocellulose lacquer failing.  We know these chemicals and are happy to share this anytime – give us a call with questions about your project.  You'll be glad you did.