As you start thinking about a remodel, you will quickly notice how many companies there are seeking your business.  Do you refinish or reface?  Do you tear out the custom cabinets installed by your builder?  This article will explain the differences in cabinet options so that you can make an educated decision.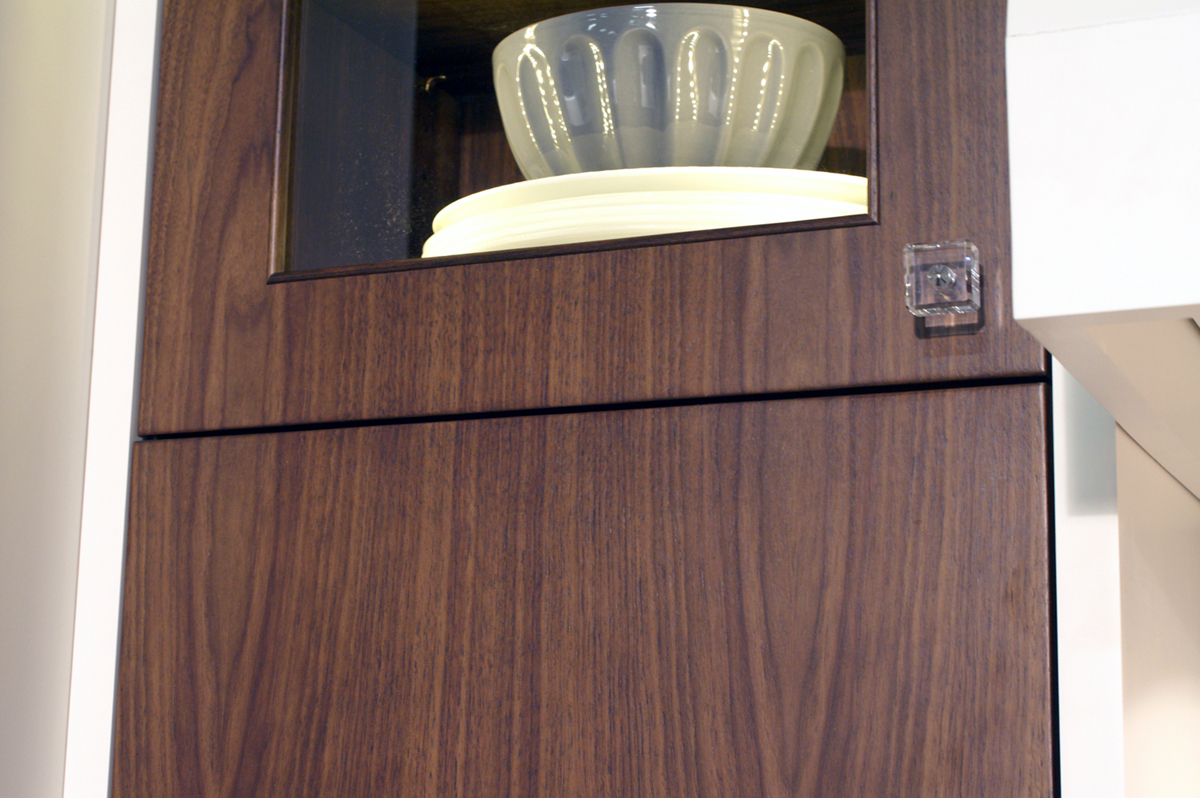 True custom cabinets are the top of the line in the cabinet industry.  There are several factors that distinguish these cabinets from all the others:
Hand selected wood matching – each piece of wood is scrutinized to make sure it looks like adjacent pieces of wood during the construction process.  If one of the 5 parts that make up a door is more red than the others, it is tossed out and replaced with a better match.
Finish – Every cabinet is finished in many layers, sanding by hand between each coat.  Toners are used to ensure a beautiful finish that is more beautiful, flawless, and durable than any other finish option.  Rather than builders grade nitro-cellulose, our conversion-varnish finish cures with a chemical reaction that produces absolutely the best and strongest finish in the cabinet industry.  Lifetime warranty is the norm for custom cabinets – 20 years is just the beginning.
Hardware – Highest quality soft close drawer glides and hinges from Blum or other leading manufacturers.  All drawers are full-extension – you can open them all the way out to remove large items within.  "Touch to open" options are available as well.  And all finishes are applied with the hardware off, so your hardware stays as it was intended.
Size – Any size to fit any space or need.  Fillers or scribe strips are not needed.
Shape – All cabinet components are milled on multi-axis computer controlled milling machines.  Want a curved top – no problem. Want an island in the shape of the Thunder logo – we've done it.  In one recent project, Brenda had the glass door dividers for a clients kitchen milled to replicate the shape of the leaded glass doors in the clients buffet she inherited from her grandmother. Simply stunning, while bringing the families history to life in the new project.
Wood choices – any wood. Any. Walnut, Sapele, Padauk, Oak (all kinds of Oak-regular, quarter sawn, rift cut, reclaimed), and the list goes on and on.  Same for the cabinet interior and drawer boxes – what makes you happy?
Grain-matching.  We can cut multiple doors and drawers from one, very large, panel of wood.  This allows for the grain of the wood to continue through several doors and drawers to create a precise look. (See photo at lower left of a walnut door and lift.)
Other materials – chrome or aluminum doors, any of over 300 glass options, high-gloss acrylic, even stone veneer panels.
Drawer boxes are not just dovetailed, but each dovetail is sanded and sealed after the box is made.  No moisture will ever get in to soften the glue. (Next time you are at a big box store – feel the dovetails….)
Doors with a center panel are made with a rubber cushion inside the door that helps keep the center panels centered.  This prevents that center panel from moving and revealing unfinished edges like you see in so many spec homes.
Just like a luxury vehicle, every detail is painstakingly monitored and attended to so that the final creation is a true work of art.
Builders Custom Cabinets:
When your home was built, in most cases, the builder installs cabinets that are designed to fit your specific space, therefore they are referred to as "custom", rather than stock or pre-built cabinets.  While the builder will call these cabinets "Custom", know that there are vast differences between a builders custom cabinet and a true – furniture grade custom cabinet like we use.  Beginning with the selection of the wood, to the hardware, and especially the finish, the builder is tasked with building a nice looking cabinet for the lowest price possible.
Often times the cabinets are built off-site, then installed into the space and trimmed out prior to having a finish applied (if you are building a new home – you must read our post "Why the Finish Matters").  Sometimes a carpenter will build the boxes in place (using a portable table saw in the driveway and light weight tools), then have custom doors and drawer fronts made by one of the many door shops here in the area.
Think of it this way – if a builder can save a few hundred dollars per home, times however many homes they build each year, it all adds up.  That's why if you want to build the absolute cheapest cabinet you can, do it like the builders do.
Builders Cabinets:
Usually have fixed, particle-board shelving rather than adjustable plywood shelving (limits the kitchens functionality).
Usually have no backs – they rely upon the sheetrock for the back of the cabinet – this will eventually get damaged and start dropping drywall into your plates.
Most will use particleboard bulkheads inside.
Some are built right on site with long pieces of wood – an entire wall of cabinets may be open end to end inside.
When finishing these cabinets, the painters usually spray their stains or paints right over the hinges and drawer glides.  Visible hinges will show the metal where the door closer spring presses on it and scrapes the paint off.
Typical builders drawers stop 4" short of fully opening due to the low-cost drawer glides they use.
Soft-close features are becoming more common, but most homes built prior to a few years ago will not have them.
Spec builders will use a lot of cabinets with a single drawer on top and double doors below – much less expensive than a stack of drawers (drawers make a kitchen easier to use rather than having to crawl down there to get into that base cabinet).
"Semi-custom" means you can modify if needed to fit a specific need.  This style of cabinet is the main cabinet sold through the big home improvement chains.  We also represent a semi-custom line – Medallion Cabinets.  A semi-custom cabinet will be made after your order is placed, so more like a custom cabinet, with hundreds of cabinet styles available.  The finish on most brands is far superior to the typical builders cabinet finish, and most companies offer a wide selection of wood choices and finishing options to fit your design.  With Medallion, rather than 20 to 30 choices offered in a stock cabinet option, we have thousands of choices available to build a truly custom kitchen or other room.
Semi-custom cabinets are offered in many sizes, mainly in 3" increments.  If you have a spot to fill that is 29.625" wide, we would use a 27" cabinet and fill the rest with a filler piece trimmed on site.  Semi-custom cabinets offer a tremendous value for a tremendous cabinet that will far outlast the builders or stock cabinets.  And if you stay within the thousands of choices available, these can be very attractive economically as well.  And since these are made to order – should a replacement door or other item be needed, we can get it in days.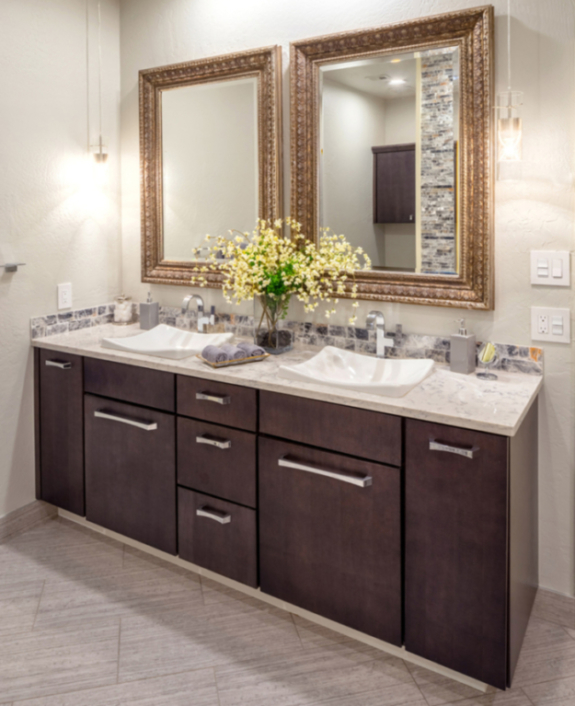 When you see the advertisements for a complete kitchen remodel for $8500, they are using Stock Cabinets.  These are cabinets that people think of when they think of "Pre-Made" cabinets.  Usually very inexpensive, made in China, these cabinets are sitting on a shelf right now waiting to be sold and installed in a home.  Thin wood, very simple designs, these cabinets are offered in very few choices, thereby bringing the cost way down.  A kitchen designed with these will be very limited in creativity as there simply are not that many choices of cabinets available.  While our Semi-Custom line has thousands of sizes we can select from, most Stock cabinets have fewer than 30 to 40 box sizes available.
Stock cabinets often have wasted space and don't make good use of the space that is available.  Not to mention the finish, construction, and wood limitations.
We only recommend these cabinets for rental properties or apartments where cost savings is the primary motivation – although we do see them in some spec homes here in the area, as well as a few local kitchen design companies that offer them with their low-cost full kitchen packages.  Modifications are not available, as the cabinets are already made.  And let me tell you how fun getting a replacement door can be…..